Center for a New Culture presents:


New Culture Summer Camp - Central Oregon
Friday August 17 - Sun. August 26, 2012
Come share in our explorations in Love and Community!

Imagine a community of loving people who care about each other and the Earth.
Discover relationships that are both heartful and free.
Step into your own power to build a life that works.
Start living the dream!
New Culture Summer Camp isnít quite like anything else.
CLICK HERE to read the Communities Magazine article about us!
In just over a week together, we will explore our own potential, learn skills to help create a sustainable society, and build connections with others that last all year long! At New Culture Summer Camp, we invite top-notch presenters, and live, work, learn and play together for 10 days or more.
New Culture Summer Camp - Central Oregon is an extended experience of building a sustainable, violence-free culture through intimacy, personal growth, transparency, radical honesty, equality, compassion, freedom of choice in interpersonal and sexual relationships, and the power of community.
New Culture Summer Camp takes place in a beautiful community setting with meadows, creek, pond, and hiking trails, about half an hour south of Eugene, Oregon. Camping is included in the registration fee, and indoor lodging in one of the two dormitories is available at extra cost.
Click here to see the Summer Camp Central Oregon 2012 Announcement
Click here to get the Summer Camp 2012 Flyer (Printer Friendly PDF file)
What is Unique About Network for New Culture (NFNC) Summer Camps?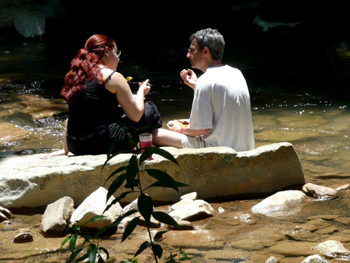 No Gurus and No Dogma
We've found that no single human technology or practice can encompass the human experience; our goal is to build a *culture* in which insights drawn from many sources are common knowledge, *available* but not imposed. We bring in many new presenters every year, and the result is that our participants have a huge pool of technologies and practices to draw from. Each person is fully "at choice" in any of our events, and each person is free to use the insights and practices that work best for them.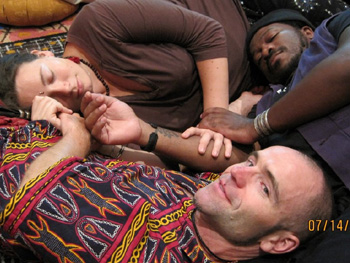 We Gather for an Extended Period of Time
Many of us have been consciously involved with the personal growth process for years; but we have seen that most people struggle to be able to incorporate those processes into their daily lives. Our camp is 10 days long so that there is time for real issues to come up -- i.e., relationships form and shift, people push their edges, folks get upset at each other. Campers support each other to work through these issues in new ways. As a result, in the words of one of our participants from last year, "Ideas become practiced ways of being."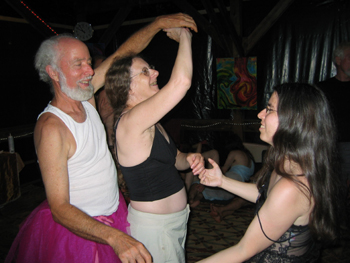 Only One Workshop at a Time
The entire group (except those who choose to sit out) goes to all workshops together. These shared experiences build the context for ongoing relationships and add to the common tool-sets available to all campers.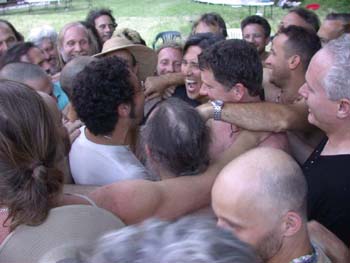 Group Practices Supporting Transparency and Understanding
Most of these are created and facilitated by campers. We have morning whole group check-ins, evening "family group" time, an all-volunteer "compassion cadre," and self-organized work teams.
Results
Powerful and long-lasting. People change their lives as a result of camp Ė new jobs, new communities, new projects. Most participants wind up connected with other participants on an ongoing basis, through e-lists, frequent gatherings, personal relationships, and joint projects.